Basement Dehumidifier Installation Service in in Lunenburg MA
Serving Lunenburg & Greater Boston Area Homeowners
---
A Dry Home is a Healthy Home!
A damp, wet basement can be more than dreary - it can be downright uncomfortable. At Premier Basement Waterproofing, we want your basement to be just as dry and inviting as the rest of your home. To ensure your basement remains dry and cozy, we offer the best basement and crawl space dehumidifiers to get rid of dampness.
Unhealthy Basement Conditions
Damp basements can be associated with a number of harmful conditions, including mold development. Like other fungi, mold grows in damp, dark environments. Once mold starts to develop in your basement, mold spores may contaminate your breathing air. As a result, you and members of your family could start to suffer from respiratory issues. If you or family members have already been diagnosed with allergies or asthma, the presence of mold will only make these conditions worse. Our Santa Fe air purification systems filter air molecules to under 2 microns in size, eliminating mold, mildew & musty smells.
In addition to the mold, damp conditions are also great for dust mites. These tiny insects contaminate the air as their excrement and body parts become air born. The greater the number of dust mites, the greater the contamination.
We Specialize in Basement Dehumidification
Even if your basement is currently damp or wet, the humidity in the area can be controlled. We know how to choose the right basement or crawl space dehumidifier to keep humidity below 60 percent, which is an acceptable level.
Although there are humidifiers available at your local home improvement store, many of those devices are not equipped to handle basement dehumidification. Unlike our basement and crawl space dehumidifiers, they are generally designed to cover a small area instead of the 2,000-plus square footage of a large basement or crawlspace.
As a bonus, many of our dehumidifier models are designed to remove mold and dust as they lower moisture levels.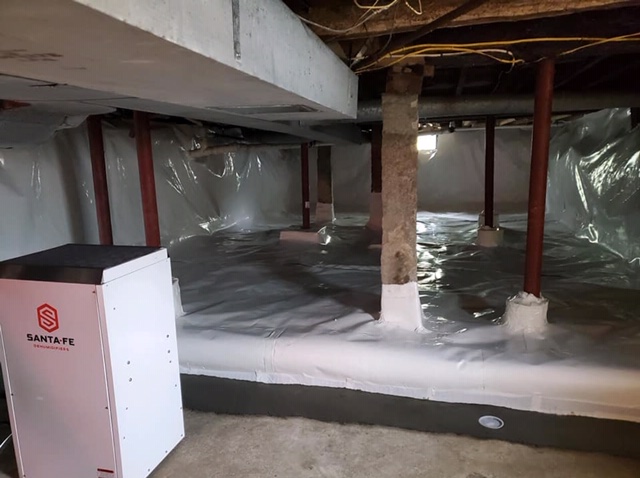 Advantages of a Basement Dehumidifier
---
There are multiple advantages to having one of our basement or crawlspace dehumidifiers in place. Here are a few of them:
A Fresher Basement - Damp basements usually have old musty smells that can make spending time in the space difficult to endure. However, once one of our dehumidifiers is installed, your dry basement should smell just as fresh as the remainder of your house.
Expanded Living Space - If your basement is humid and uncomfortable, it can be difficult to maximize the space. However, after your basement is dehumidified, you can add the living area to the usable square footage of your home. You'll have the extra space that you need for an additional guest room, play area, family room or man cave.
Less Mold - Mold grows best in moist areas. As you remove moisture from the air, the fungus is less likely to grow in your basement or crawlspace.
Healthier Air - By removing contaminants such as mold spores and dust mites from the air in your basement, you increase the air quality. As a result, your family can breathe easier.
*Premier Basement Waterproofing also Offers Annual Maintenance and Repairs on All Santa Fe Dehumidifiers.
---
Ready to breathe easier and make your basement the perfect living space? Schedule a free estimate to discuss the best solution for keeping your home dry and contact Premier Basement Waterproofing today at 844-LIVE-DRY!