Amherst's #1 Choice for Basement Waterproofing Services
Fed up with your leaky, humid basement? We can help you keep your home dry once and for all!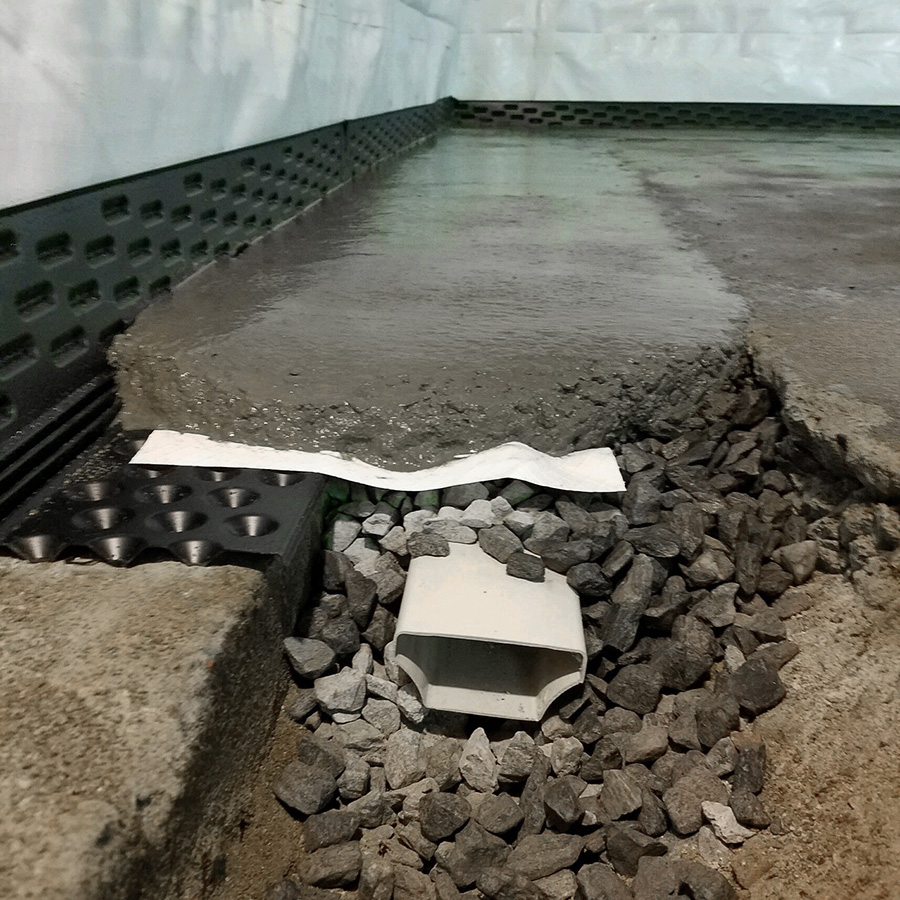 For expert basement and foundation waterproofing solutions in the Amherst area, call the specialists at Premier Basement Waterproofing. From foundation work to crawl space encapsulation, we're the premier solution for keeping your home dry, durable and odor-free.
From our initial consultation to our job completion walk-through with an owner, our goal is 100% customer satisfaction. We offer a free lifetime transferable warranty on all basement waterproofing services.
With over 20 years of drainage, waterproofing, and crawlspace encapsulation experience in Massachusetts and New Hampshire, we have designed a state of the art system which separates us from corporate and franchised production.
Why is it important to keep the water out?
We all know basement water is a nuisance, but did you know that the real damage is going on behind the scenes? Learn more about why wet basement repair is necessary.
Amherst's Best Waterproofing Solutions
---
Without effective waterproofing, it's difficult to convert a damp or wet basement into a productive living space. However, with the right waterproofing solution, your basement can become just as dry as the other rooms in your home. At Premier Basement Waterproofing, we provide perfectly-engineered waterproofing services to solve basement water problems in your area. Our systems can be custom-designed to meet the needs of any home, regardless of age or size.
How Long Does a Waterproofing Drainage System Last?
Premier Basement Waterproofing offers a lifetime transferable warranty on drain systems.
Advantages of Basement and Foundation Waterproofing
Increased Resale Value - Effective leaky/wet basement solutions generally result in a higher resale value for your home.
Fewer Hassles - Once your home is waterproof, you don't have to worry about issues with your basement or foundation each time there's a heavy rain. In addition, you can maximize all of the square footage of your home.
Better Air Quality - The quality of your air is only as good as the contaminants that the air contains. Mold spores and dust mite parts and excrement can easily become airborne. Once these contaminants are ingested into the lungs, they can cause breathing issues. For people who already suffer from asthma or allergies, these contaminants can exacerbate their condition and cause flare-ups.
See Examples of Our Work
Hear directly from our customers!
My basement has been completely dry since PBW put in a waterproofing system, even after some very rainy seasons (and I'm at the bottom of a hill). I am able to have my laundry down there and all my storage. In comparison to the other quotes I received, PBW was by far the least expensive even though it is obvious they use the best materials. It was icing on the cake that the PBW employees were super friendly and professional. They were in and out of my house in one day. I highly recommend PBW for an easy, pleasant experience that will leave your basement dry. Jessica A. in Winchendon, MA
Mike took the time to answer all questions we had in a timely manner. Work was done very professionally, I would recommend them to anyone I know who needed basement work. He also told us we could call any time if the need arises, with any concerns or questions. Very pleased with the outcome. It give us peace of mind. John G. in Manchester, NH
Check out more reviews here!
---
Call us today at (844) 548-3379 or fill out our online form to get started with an inspection and free estimate from a waterproofing expert.